PRODUCER OF
EXCEPTIONAL CIDERS,
FREE FROM
ADDED SULFITES,
AND
CARBON NEUTRAL
PRODUCTION OF GREAT CIDERS
Gentle and slow fermentation
with a natural in bottle carbonation
Apples for our cider come from domaine orchards farmed organically since their plantation, and have never seen industrial agrochemicals. Our decision to refrain from using mildew and odium treatments, even the organic kinds, means the fruit undergoes a rigorous sorting to remove all but the best fruit. After being washed, milled and pressed, the juice is then carefully racked to remove any gross sediment and leave us with a clean juice. This clarification will allow the juice to ferment slowly and gently in temperature controlled vats under the supervision of native yeasts.
Before the yeasts have consumed all the sugar, the cider is put into bottle under traditional cork and wire closures to continue fermenting, giving a natural carbonation or "pétillant naturel." The residual sugar at bottling and the concentration of yeasts, in addition to the flavor profile of the cider determine which cuvee the finished cider will become.
ORGANIC AGRICULTURE
Our soils have been free from industrial agro-chemicals for more than 50 years
A respect for the environment has been an inseparable identity of our family culture, and was what led Maurice to reject industrial agro-chemicals in 1967. These products were promoted to farmers as a way to increase yields and minimize labor; at the great expense of nature's natural course.
We were one of the first to champion what would later become "Organic Agriculture," and in 1986 we participated in the creation of the first association of organic farmers in France: Biocer. 100% of our cultivation is farmed organically to standards well beyond the base "Bio" certification, allowing us to be certified "Biocoherence," meaning we abide by stricter and more sustainable practices. As a result, our products are sought out in stores, shops, and restaurants specializing in organic and environmentally conscious goods.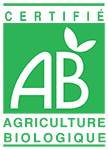 Zero Carbon
Footprint
objective
We have begun modifying our production practices in order to respond to the climate crisis of today.
Produire bio et sans sulfites, ne nous paraît désormais plus suffisant et nous nous engageons à atteindre une production zéro carbone d'ici à 2030.
In 2020 and continuing into 2021, we will be engaging in a large scale plantation project involving 9,000 young trees. This affluence of new growth will not only help compensate our carbon footprint, it will also guarantee a fecund and sustainable orchard for the next generation.
4750
apple trees
planted in 2020
4300
apple trees
planted in 2020